About Us / Our Community
Our Community
The STRONG Accountable Care Community strives to improve the health and well-being of the Appalachian Highlands. Our region crosses state lines, so the initiatives of STRONG do, too.
Our region
STRONG is the nation's only accountable care community serving more than one state.
Our community encompasses:
2 states
21 counties
8,708 square miles
Nearly 1 million people
We're proud of our region's rich heritage, vibrant culture and ample natural resources. Together, we'll make our community and its people even stronger.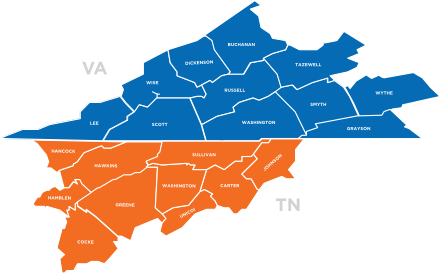 Counties in our region
You're part of the STRONG community if you live or work in:
Northeast Tennessee
Carter County
Cocke County
Greene County
Hamblen County
Hancock County
Hawkins County
Johnson County
Sullivan County
Unicoi County
Washington County
Southwest Virginia
Buchanan County
City of Bristol
City of Norton
Dickenson County
Lee County
Grayson County
Russell County
Scott County
Smyth County
Tazewell County
Washington County
Wise County
Wythe County
A STRONG start for everyone.

Become a partner of the STRONG Accountable Care Community.